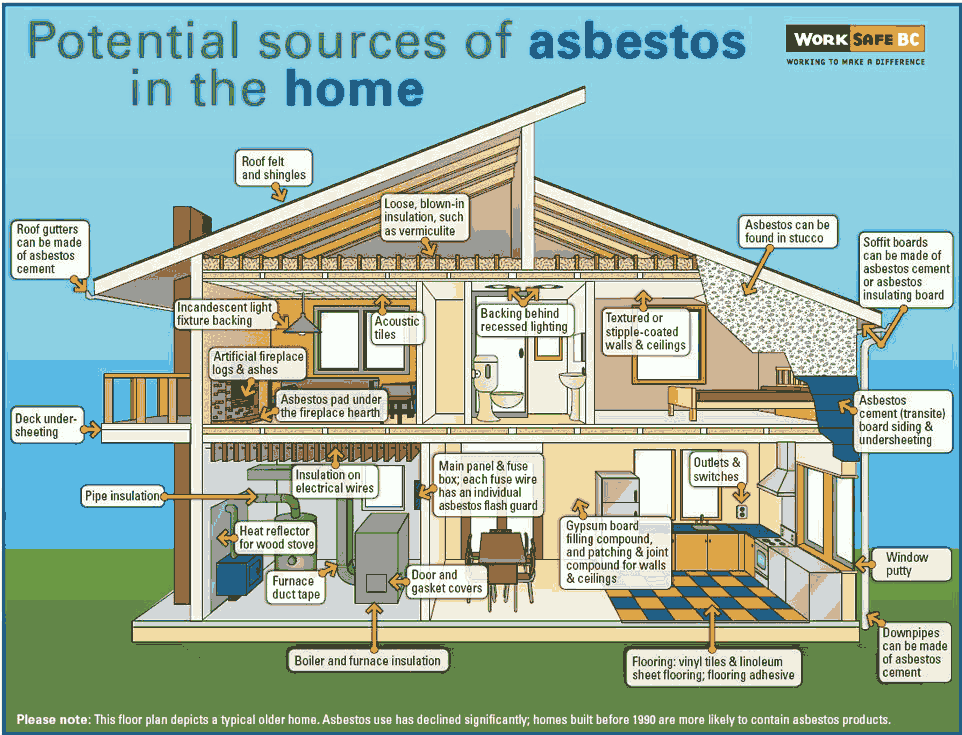 Note: Since regulations were amended last year and WorkSafeBC and the districts are really cracking down.  If you are apply for any type of building or demo permit the city will ask you for an asbestos clearance letter, which you can only obtain from an occupational hygiene consultant, and that can be difficult and costly for you to obtain if the areas in question were not abated properly, if there is no documentation that the work was done using the regulatory safe working procedures, and if there is no evidence that the materials were properly disposed of at a licensed facility. Please ensure that anyone you direct to perform abatement of asbestos is a qualified abatement contractor following all WorkSafeBC approved abatement procedures. We are continually (on weekly basis) seeing people create headaches and stress for themselves by doing their own abatement or using unqualified workers.
A qualified environmental company does the detailed hazmat survey and report. An experienced abatement contractor removes the asbestos, lead, and other hazardous materials, a third party monitoring company does the air quality testing/monitoring. The abatement contractor takes care of all the paperwork to document proper storage and disposal, WorkSafeBC Notice of Project etc, and then an environmental company performs the final air clearance report.  This final clearance is important for safe re-habitation and also critical for any other workers or inspectors to enter the premises.
Asbestos removal is not difficult, but it is very detailed and we are happy to help people more fully understand and navigate this process.
Feel free to contact us to discuss your situation, project and the related process in detail – there is no obligation and we can usually clarify the process so you more fully understand your options and requirements.
Before you start
If you are renovating, repairing, or demolishing a house built by or before 1990 you are required to have a hazardous materials survey conducted prior to work starting.
Hazmat Survey
An environmental consultant will inspect your home to visually identify and collect (suspect materials) samples to be tested by an accredited lab.
Report
The result can be an "all clear" for you home, or if hazardous materials are discovered they will be identified in the report. Once you have this report in  your hands you can start getting quotes from several contractors.
Asbestos Abatement (Removal)
A qualified abatement company removes the asbestos and other hazardous materials identified in the report following WorkSafeBC regulations.
Final Approval
If 'high risk' remediation has been employed you will require a final air clearance when the work is complete. A consultant will inspect the work site and conduct air monitoring to confirm the remediation has been completed appropriately and that the building is safe for re-occupancy. You will need this final air clearance before admitting other workers or city staff to the area (to obtain building permits etc).
Note – also see WorkSafeBC's 10 simple steps to complying with asbestos abatement.