It was marketed as a thermal system insulator going back to the 1920's. A popular brand of vermiculite was sold under the name Zonolite and resulted in a class action lawsuit against the manufacturer. Characterized by a brown/white appearance, which is shiny when exposed to light, vermic (as it is known in the abatement industry) is undisputedly friable (can be crushed by hand pressure). Most often found in attic spaces it provided better insulation value than shredded wood or horsehair insulation that was used in many turn of the century homes and up to 1960. The discovery of blown cellulose and fiberglass insulation made vermiculite obsolete but it was still widely used in the transition phase. If removing vermiculite or sampling this material – entering an attic space with vermiculite must be done using proper PPE (personal protective equipment) under all circumstances and precautions must be taken to prevent spread of any vermiculite into the living space. Exercise extreme caution if there is any chance of disturbance.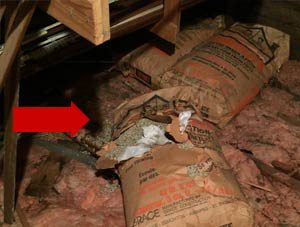 Concerns About Exposure If Your Family Removed or Handled Insulation That Contained Asbestos
It is not possible to say whether your exposure may result in disease. Exposure to asbestos increases your risk of developing lung diseases including asbestosis, lung cancer, or mesothelioma, and disease may not occur until decades after exposure. The risk of disease increases as the level, duration, and frequency of exposure increases. That risk is made worse by smoking.
WorkSafeBC has an online registry for those who feel they may have been exposed to asbestos.
If you have vermiculite insulation in your home, you should assume this material may be contaminated with asbestos and be aware of steps you can take to protect yourself and your family from exposure to asbestos.