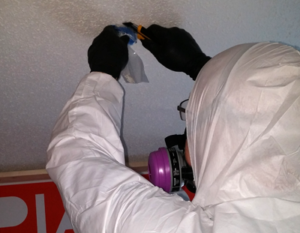 This is the first and most important step in the process – to find out what materials may contain asbestos. We will recommend a third party lab to analyze any suspect material that could potentially be disturbed. If asbestos (lead or other hazmats) are found, we will work with you and a third party environmental consultant to ensure that asbestos and the risk of asbestos exposure is mitigated. You will need a hazmat survey for the following: renovation, or demolition hazardous materials surveys (Hazmat Survey, also known as asbestos surveys, assessments or reports) for property owners, employers, contractors and property management groups. If you are purchasing a home or business we also recommend obtaining an up to date hazmat survey. This is a critical first step prior to any asbestos removal work taking place. Structures need to be inspected to identify hazardous materials collect samples to be analysed by an accredited lab and then provide a report (an inventory of hazardous materials). This is a necessary first step to determine if abatement is required before any renovations, repairs, or demolition can occur. The hazmat survey process is explained in detail here. When the report has been completed we can determine related costs for any necessary abatement.
Real Estate – Pre-Purchase HAZMAT Survey
Identify hazardous materials in a home or commercial property before you purchase. We recommend you have a hazmat survey of a property to provide detailed hazmat inventories as well as pricing on asbestos removal, lead paint, and other existing hazardous materials.
Building Permits
Municipalities and Building Inspectors require a Hazardous Materials Survey to issue a renovation or demolition permit.
WorkSafeBC
Requires a hazmat survey prior to any renovations, repairs, or demolition. Read their asbestos regulations here to help determine your role and requirements.
Your Responsibilities
Employers, landlords, and property management groups require a Hazardous Materials Management Survey to comply with WorkSafeBC regulations. Who is responsible
Controlled Waste Permit
Waste management facilities require a waste manifest and the driver/vehicle must be licensed to haul asbestos.