Many buildings contain smoke alarms, which contain small sealed radioactive sources in the form of Americium 241. The Canadian Nuclear Safety Commission (CNSC) and the Canadian Nuclear Safety Act regulate radioactive materials. These materials are sealed into a metal case within the smoke detector and must not be damaged or tampered with. Smoke detectors intended for disposal must be handled in accordance with CNSC regulations.
Floor tiles and some forms of granite building materials sometimes contain radioactive materials and can be released under certain conditions. Collection of samples, both bulk and air will determine the presence of radioactive materials.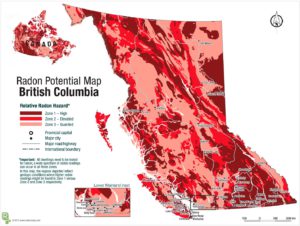 Radon gas is a by-product of radioactive decay of certain naturally occurring radioactive materials. It is typically found in soil, hard rocks and other naturally occurring materials. Routes of entry include open basements, unsealed sumps and cracks in structure foundations. Remedial measures should be undertaken in a dwelling whenever the average annual radon concentration exceeds 200 Bq/m3 in the normal occupancy area.